SECLUDED BRONTE – Adam Bohman/Jonathan Bohman/Richard Thomas/Pu Pa'o In Chinese Clothes + Andrew Lisle/Guillaume Viltard/Tom Wheatley/Seymour Wright – 30 May 2014
SECLUDED BRONTE – Adam Bohman/Jonathan Bohman/Richard Thomas/Pu Pa'o In Chinese Clothes
(found sounds, lost sounds, already there sounds) The fabulous Bohman brothers with the esteemed Mr Thomas bring their there uncategorizable take on popular culture to the club with extra-special guest Pu Pa'o In Chinese Clothes.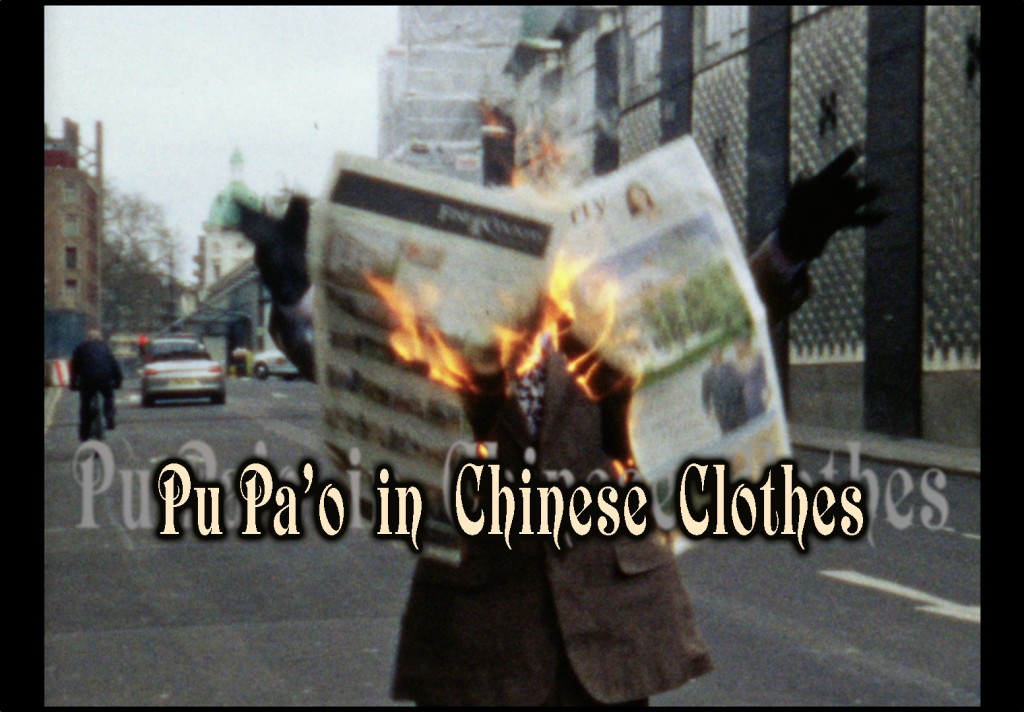 Pu Pa'o is well known in the area. He hands out rubber mats and keeps himself clean with a brush.!
Lee Fat Chung stands before him. He is angry.

 'Pu Pa'o,' he says. 'I'm calling you out. You owe me big time.'
Pu Pa'o nods, thinking, 'It's the fish metal… Always get me in trouble big time.'

Pu Pa'o wets his lips with photographic chemical – Tetenal Dokumol. Dokumol has high gradation
and produce very cold tones. It is also alkali. In this high a concentration, is corrosive. Pu Pa'o lips
reflexively snap back revealing his teeth. The teeth flash pain.

Pu Pa'o nods gravely. He is waiting for the photo to develop. The red safety light casts an infernal
glow.

 'Ok, Lee. You know I am good to my word.How about I give you this?' Pu Pa'o hands Lee
Fat Chung a Korg Volca Beats analog drum machine. Lee examines it carefully, rotating it in the
available light.

 'How many batteries?' asks Lee.
'Seven batteries'.

 'On switch?'
'Next to optional AC adaptor socket.'

 'You bastard,' shouts Lee. 'The machine useless. Broken.' To emphasise his anger, Lee Fat
Chung storms out of darkroom and throws the Volca Beats analog onto the pile of synthesisers in
yard. The photo was close to development. Already, sad faces and traces of the dirty wire that is
building were appearing. Now is ruined. Lee storms back in. Pu Pa'o extemporises.

 'Ok, Lee. You know I'm good for the fish metal. How about I get out the accounts and make
you out bill of sale. I make paid in full. Document in Microsoft Word.'

 Lee Fat Chung's expression brightens. 'I know Microsoft. I have used their product and
trust. OK, Pu Pa'o. We have a deal. But no funny business.'
+
Andrew Lisle/Guillaume Viltard/Tom Wheatley/Seymour Wright – A fascinating improv line-up with a relative newcomer on drums, 2 of the finest double bassists, and the highly innovative saxophonist.
flimflam @ Ryan's. 181 Stoke Newington Church Street, London N16. Entrance £6/4. Doors 8.30.